The Shrewsbury Canal
A Collection of Photographs by Tony Clayton
---
Eyton Lower Lock (No.11)
---
Long Lane Wharf <<-- : -->> Eyton Village Lock
---
All the locks on this canal were designed originally to take four 20ft x 6ft tub-boats, and to conserve water had guillotine gates at the lower end. The original intention was to have an intermediate gate 20 feet from one end so that when a single boat was passed only a quarter of the water was required. Locks 4 and 6 have grooves below the original waterline just over 20 feet from the top gate sill, while locks 10 and 11 have vertical columns of bricks at this position, as if such grooves had been infilled at a later date.
Until recently Eyton Lower Lock was the best preserved on the canal. The lifting mechanism is the original type A, with wheel and axle lifting gear and the counterbalance over the tailbay. The lock was widened when the Newport Branch was built, joining the canal to the national network. Access is now very difficult as not only is it on private land, but the surrounds have become very overgrown, and the deep drainage channel prevents access from the fields. Before this hid the superstructure so that it is no longer visible from Long Lane, it became evident that the weight of the gate had pulled down the lifting mechanism.
---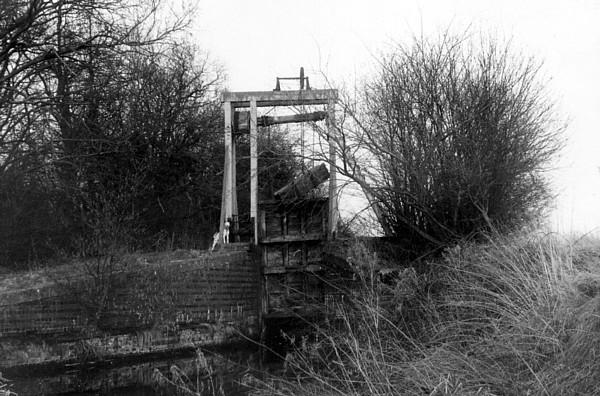 Eyton Lower Lock from below, 1972 (Grid Ref SJ 644153)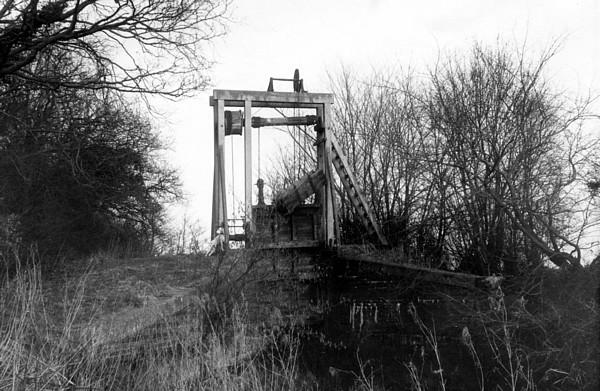 Eyton Lower Lock from below, 1972 (Grid Ref SJ 644153)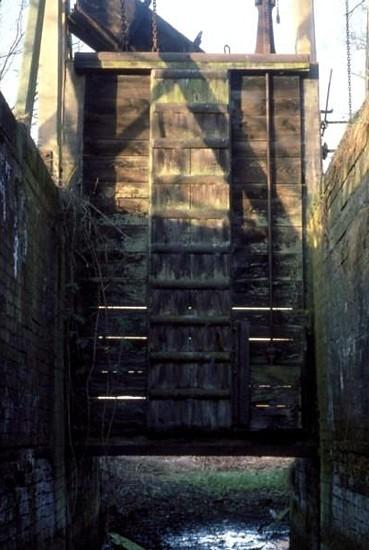 The bottom gate from within the lock chamber, 1976.
At the time the gate was loose in its channel.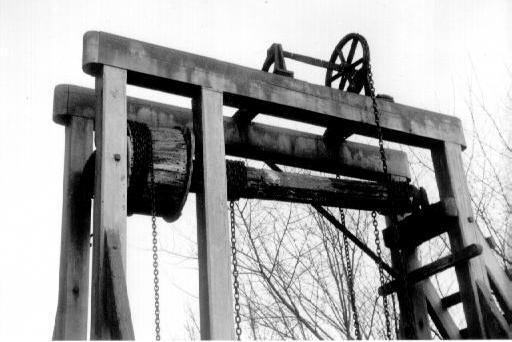 The Superstructure of the Guillotine gate at Eyton Lower Lock, 1978.
Sadly this collapsed in the early 1980's.
The end bearing of the wheel and axle arrangement, 1977.
The decayed state of the crosspiece supporting the axle is very evident.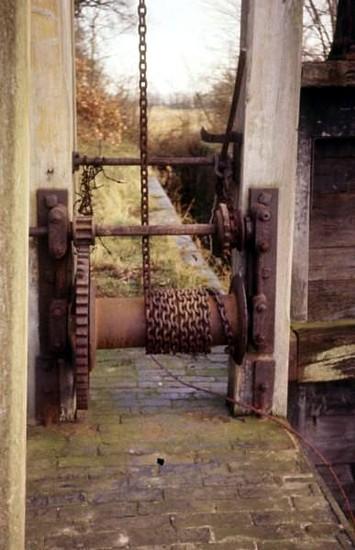 The bottom gate winch, 1977.
The Lower Gate of Eyton Lower Lock in the early 1960's. It is thought that this picture was taken by Howard Williams.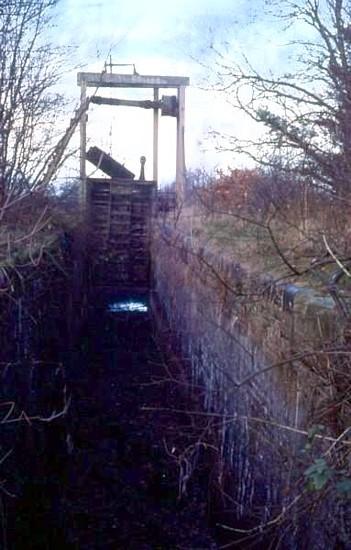 Looking down Eyton Lower Lock in late 1975.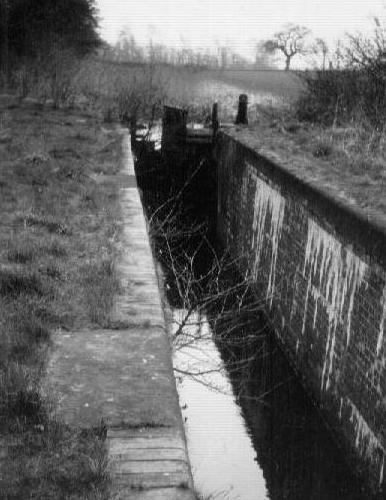 Eyton Lower Lock from the W, early 1960's (Howard Williams)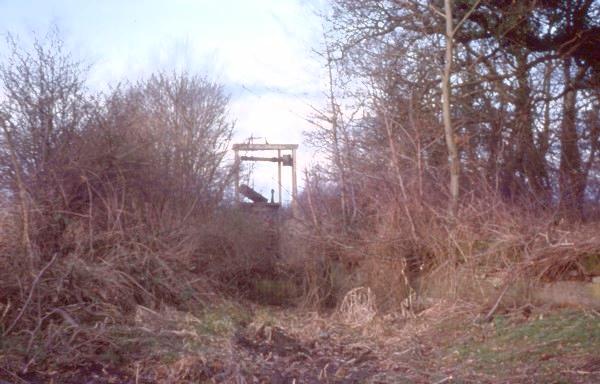 Eyton Lower Lock from upstream, late 1975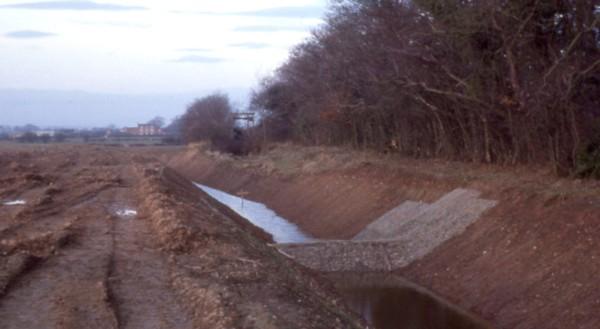 Eyton Lower Lock from towards Eyton Village Lock, showing the new drainage channel cut along the canal bed and out through the side.
---
The Shrewsbury Canal
Long Lane Wharf <<-- : -->> Eyton Village Lock
Shrewsbury Canal Index
---
Other Canals
The Shropshire Union
Canals of the West Midlands
Main Index
---
Shrewsbury Canal - Eyton Lower Lock
Copyright reserved by the author, Tony Clayton
v16 12th May 2015